The current Virtual Lancaster website is at:
https://virtual-lancaster.net.
You are looking at an earlier version of the site that was archived on 23.02.17 and is no longer updated.
Here's lots of places to go and things to do in the Lancaster + Morecambe area.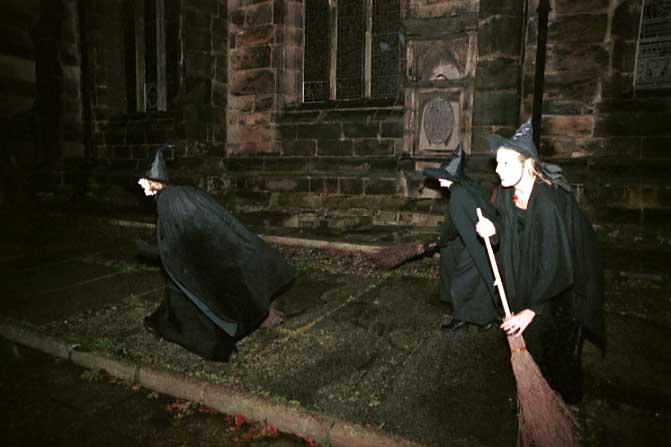 Catwalks have been associated with Guided Walks in the Lancaster District and around the North West for many years. Catwalks has built up an excellent reputation for delivering a high quality service.
Visit their web site—www.catwalks-lancaster.co.uk—for the latest walks schedule or check our What's On Pages

Lancaster in Pictures
In 2000 DJ Clark took 1000s of photos around the area and of local activities and festivals too and published them in a lovely book called 'A Little English City'.
Click here to see these wonderful pictures (catalogued by place and event)—taken in co-operation with Lancaster Museum who are archiving the images.





ATTRACTIONS IN LANCASTER

J Atkinson & Co, Tea & Coffee Merchants
Web Link: www.thecoffeehopper.com;
China St, Lancaster LA1 1EX (follow your nose!)
Tel: 01524 65470

A traditional tea and coffee specialist shop founded in 1837 - the year of Queen Victoria's accession. Atkinson's supply many of Lancaster's cafes with their tea and coffee.
Purveyers of quality beans, leaves and blends worldwide - including Fairtrade. They roast fresh every day, filling the city with a wonderful aroma and have over sixty coffees and 100 teas - more than anywhere else in the region.

The Butterfly House
Williamson Park, Lancaster, LA1 1UX
The former Palm House in Williamson Park houses a tropical rain forest with flowers, trees, vines, foliage and colourful species of butterflies including brilliant swallowtails, and cleverly camouflaged Owl butterflies enjoying their natural habitat. The pupae of new butterflies can be seen in a special display case and you may even see a butterfly emerging from its chrysalis. In the stream that flows around the forest you may also spot a koi carp.
Adjoining a Mini-Beast (reptiles and insects) Zoo, an Animal Garden and a free-flying foreign bird enclosure, this is a popular destination for school trips and guided talks are available demonstrating the life cycle of the beautiful creatures. Bookings can be made by telephoning 01524 33318.

Lancaster Brewery
Lancaster Leisure Park, Wyresdale Road, Lancaster, LA1 3LA.
Lancaster Brewery, founded in 2005. Visitor center, shop, bar, beer garden and cafe open to all daily 10am–5pm. Children and dogs welcome. Brewery tours available at 10am and 3pm, private tours by arrangement. Available in the evenings for private hire.

Lancaster Canal runs north/south through town just east of City Centre (lots of nice pubs!) See info on the local Waterbus.

Lancaster Castle

Castle Parade, Lancaster, LA1 1YJ
Tel: 01524 64998
If you could only visit one castle in the UK it should be this one. Open 7 days a week (except the Christmas/ New Year period) from 9:30am to 5pm, with tours starting every 30 minutes between 10am and 4pm. You can just walk freely into the castle courtyard. The gates are open. Times change!
Some narrow, winding, old, stone staircases and the entrance gate is a steeply cobbled wheelchair trap, so not suitable for people with restricted mobility.
Themed evening tours available for group bookings. Tours available for pre-booked school groups. Gift shop. Cafe. No disabled access (yet).
Estimated Visiting Time : 1.5 hours
Until 2010 the castle was also used as a prison. It is changing now, much for the better.

Lancaster Cemetery
just off Quernmore Rd (opp. Williamson Park), Lancaster, LA1 3JT
The district's finest Victorian cemetery is a fascinating place full of the best of Victorian Memorial Art and all the famous Lancastrians of yesteryear are laid to rest there. Who were Pythagoras De Nicteroy and Lasarus Threlfall Baines? Where is the largest Crimean War Memorial in England?
Lancaster Civic Society presents occasional guided walks from the main gates.


City Museum and The King's Own Museum
Market Square, Lancaster, LA1 1HT
Tel. 01524 64637
Open Mon - Sat, 10am - 5pm.
Free admission. Full disabled access.
This splendid museum is housed in Lancaster's former Town Hall, built in 1781-3 to the designs of Major Thomas Jarrett and Thomas Harrison. The Museum itself was founded in 1923 and its newly redisplayed collections illustrate the rich history and archaeology of the city of Lancaster, the most northerly and rural part of Lancashire.
The museum also hosts many temporary exhibitions.
The City Museum is also home to The King's Own Regiment museum which offers a fascinating insight into army life.For more about the King's Own, this site has a brief but thorough overview of its history: www.kingsownmuseum.plus.com

Lancaster Comedy Club
is held at The Borough in Lancaster's Dalton Square every Sunday at 8pm.
Over the years the show has featured acts from Have I Got News For You, Michael McIntyre's Comedy Roadshow, Never Mind The Buzzcocks and Mock The Week. Tickets are £7 in advance, £9 on the door or for £12 guests can enjoy a meal at The Borough (Michelin recommended) and then head upstairs to the show. For more information please visit www.lancastercomedy.co.uk

Cottage Museum
& Roman Bath-House
Cottage Museum, Castle Hill, St Mary's Gate, Lancaster, LA1 1YS.
Tel. 01524 64637
Close to Castle.
Open Easter to 30 September, daily from 1 - 4pm.
Admission Adults £1, concs 75p. Accompanied children free.
The Castle Hill Cottage Museum is a small museum furnished in the manner of an artisan's home, circa 1825.
Open from Easter to the end of September, 2–5pm.
The remains of the Bath-House are in Vicarage Field, on the right as you go down Priory Lane, which runs from the Priory Green down to St George's Quay.
Part disabled access.

Friends Meeting House
Meeting House Lane, Lancaster
(next door to Lancaster train station)—
Tel: 01524) 62971
Dates from 1708, replacing earlier building of 1677. The tombstone of John Lawson, Lancaster's first Quaker, converted by George Fox in 1652, is in the porch.

The Grand Theatre
St Leonardsgate, Lancaster, LA1 1NL
Tel: 01524 64695
Box Office open 10am - 3pm
Extended opening until 6.30pm Wednesday
The Grand can accept credit card orders by phone.
Tickets are usually on sale two months prior to an event.
One of the country's oldest working theatres, the show has gone on for more than 200 years.
Tours of the exuberant Edwardian interior can be arranged by appointment via the box office. Running for 45–60 mins, they may include a glimpse of actress Mrs Sarah Siddons, the Ghost-in-Residence.
They will also take place throughout the days on the Heritage Open Weekend in September.

Judges' Lodgings + Doll Museum
Church Street, Lancaster, LA1 1YS
Tel. 01524 32808
Opening times:
From Good Friday to 30 June:
Mon–Fri 1–4pm, Sat & Sun 12–4pm.
From 1 July to 30 September:
Mon–Fri 10am–4pm; Sat & Sun 12–4pm
October: Mon–Fri 1–4pm, Sat & Sun 12–4pm
Admission: Adults £3/£2. Accompanied children free.
Lancaster's oldest town house, once the home of Thomas Covell, keeper of the Castle during Lancashire's witch trials of 1612. Later used as a residence for judges visiting Lancaster Castle, and now a museum displaying a wealth of furniture, porcelain, silver and paintings. In addition to displays of Lancaster's fine Waring and Gillow furniture the top floor of this former town house - which includes room exhibits of the house as it used to be - is turned over to a toy museum with artefacts from various periods from throughout the 20th century. There's also an impressive re-creation of an Edwardian school-room. The Lodgings often runs events at half-term for schoolchildren: telephone for details.
Cafe and gift shop. Part disabled access.

Maritime Museum
Custom House, St George's Quay, Lancaster, LA1 1RB
Tel. 01524 382264
Free to local residents and all children under 16 (who must be accompanied by an adult).
Visiting adults £3/£2 (2014).
Open daily: Easter to October: 11am–5pm
November to Easter: 12.30–4pm
(Closed Xmas and New Year's days)
Last admissions: Warehouse building - 40 mins before closing. Museum - 20 minutes before closing.
This museum occupies two historic buildings on St George's Quay, the main 18th-century harbour. It was opened in 1985 and has won many awards. The former Custom House of 1764, designed by Richard Gillow, contains interactive displays on the history of the Port of Lancaster and the local fishing industry, including an excellent push-button audio/video show of Bay maritime history, with a gallery for exhibitions. In the adjacent warehouse are displays on the Lancaster Canal and the ecology of Morecambe Bay. Several preserved vessels are also displayed, including Sir William Priestley and Coronation Rose. There is a cafeteria and shop and parking is available at the rear. There is disabled access, toilet and baby-changing facilities.

Lancaster Leisure Park
Wyresdale Road, Lancaster LA1 3LA.
Tel. 01524 68444
Previously Hornsea Pottery. Huge antiques centre with many dealers, factory shop with actual bargains, garden centre, play area, indoor soft play area, tearoom, dance studio, lots of free parking and it's practically next door to Williamson Park. On Saturdays there's also a Car Boot sale next door at the auction mart.

Lancaster Library
Market Square, Lancaster, LA1 1HY
Tel. 08450 530005
Following a fabulous refurbishment the library is well known, not just for its books and extensive multi-media but also for its popular Get It Loud in libraries gig nights with surprisingly big names. The library offers a 35-minute A-Z audio-guided walk that takes you on a tour of the history of the library movement via the collection at Lancaster Library.
The walk covers all the library's interior—the main space, the local history section and the sanctuary upstairs. You are guided to specific places and items, which throw light on the library itself and what it stands for.
From roots in the Chartist rebellion through to the library's relationship to digital culture you will walk a map which draws this line back onto a locality.
How to take the walk: The audio walk is available on loan from Lancaster Library on a ready-loaded MP3 player.

Lancaster Millennium Bridge and River Lune Millennium Park
St George's Quay
Walk or cycle along this newly constructed scenic route. Miles of tree-lined path alongside the rolling river.
Click here for a virtual tour of the bridge.

The Music Room
Sun Street, Lancaster, LA1 1EW
Tel. 01524 65470
It seems to have been built in about 1730 as a garden pavilion. The striking 3-storey building has a charming cafe on the ground floor but the principal room on the first floor has some of the finest Baroque plaster-work in the North West, attributed to Francesco Vassalli, with depictions of the Greek Muses - hence the name. Sadly you cannot just go see as it is usually kept locked except on special open days and you need an appointment to view. The top floor is a flat and is let by the Landmark Trust, who owns the building. Access by arrangement with the Landmark Trust.
The Music Room Cafe, is on the ground and first floors, with tables in the square outside. It's run by Atkinson's, who take tea and coffee to a different level...

Lancaster Priory Church

St Mary's Gate, Lancaster, LA1 1YZ
Tel. 01524 65338
Next to the castle.
The Priory and Parish Church of St Mary was founded in 1094 by Roger de Poitou on the site of the earlier Saxon church. It is remarkable. Children will love finding the exquisite and strange carvings under the mediaeval choirstalls. The Priory also contains the King's Own Regiment Memorial Chapel.

St Peters RC Cathedral
East Road, Lancaster LA1 3BT. Tel. 01524 384820
Designed by distinguished architect E.G.Paley in the style of 1300 and consecrated in 1859, the City's Roman Catholic cathedral has undergone a brilliant restoration. If
In 2009 the Cathedral celebrated its 150th anniversary.
The Cathedral is open daily 8:30am–6pm (with occasional exceptions). There are information panels at several points around the Cathedral, and an exhibition space which houses a computer giving further background to the Cathedral and the Catholic faith.
Guided tours are available for groups, but must be booked in advance. Tours can focus on the history and architecture of the building, the liturgical life of the Church or any aspect of Catholic belief and practice.

Lancaster Town Hall
Dalton Square, Lancaster, LA1 1PJ
Tel. (01524) 582070
Contains The Ashton Hall (not to be confused with the Ashton Memorial)
Opened in 1909 this neo-Georgian gift to Lancastrians from Lord Ashton is a fine Edwardian Grade II listed building containing: the imposing Council Chamber with the grand Mayor's chair; the Mayor's Parlour with the fine collection of civic silver and Gillow furniture including the magnificent centrifugal table; the majestic Ashton Hall with its grand concert organ and the fine display of heraldic art on the ceiling; the former Magistrate's Court Room complete with all the original furniture. From the prisoner's dock visitors will be "sent down" to view the atmospheric subterranean police cells, which in 1935 held Lancaster's notorious double murderer, Dr Buck Ruxton. Check with Town Hall reception for summer tour times (max. 15 people per tour).

Town Hall Disabled Access
During office hours is via the customer services side entrance (facing the Memorial Gardens, where there is also a disabled parking space) and the short reach platform lift which in turn gives access to the passenger lift and all the function / meeting rooms on the first floor.
Out of hours functions. Ring the customer services door bell. If no-one answers you will require an able bodied person to go inside by the entrance in use and find somebody to arrange access, while you wait on the pavement outside. This may take some time and may not be successful. Best to phone a few days ahead and attempt to secure an arrangement.

Williamson Park and the Ashton Memorial

Quernmore Road or Wyresdale Road, Lancaster, LA1 1UX
Tel. 01524 33318
The outstanding landscaping of the 54 acres of parkland, with lakes, views and walks around the eye-catching Ashton Memorial and the exotic butterflies make this a memorable attraction.
Extensive superbly landscaped gardens, great Taj-Mahal-shaped skyline folly, butterfly house, reptile & crawlies zoo!
Williamson Park is open throughout the year except for Christmas Day, Boxing Day and New Year's Day – 10am – 5pm April to September, 10am – 4pm October to March.
The park is free to enter with a small entry fee to access the Butterfly House and Mini Beast Cave and a donation to enter the Ashton Memorial. It is a great location for school trips and birthday parties.
http://www.facebook.com/Williamsonpark





TOP

ATTRACTIONS IN MORECAMBE

Morecambe Prom

It's a lovely wide promenade walk—flat with good access, loos etc. A fantastic view across the immense sweep of the bay to Lake District and that BIG SKY feeling with the odd seagull doing the ambience. There's a cute little train that can take you from the Eric Morecambe statue up the Prom to the cafe at the end of the Stone Jetty and back if you're not a big walker. On the land side there's loads of shops—gifts, clothes outlets, cafes, pubs etc. There's the best market between Carlisle and Preston (maybe better than them) with a big open-air add-on on Sundays and during festivals there's good free live entertainments on the Prom—street theatre, live music and all sorts of wonders. The West End (toward Heysham) is special for the little shops that are NOT part of national chains—almost unique really.
For more information see the
Morecambe Visitor Information Centre. Tel.: 01524 582808

Cross-Bay Walks
Walks across the bay from Hest Bank to Grange-over-Sands. You need a guide to avoid quicksand, riptide etc.
Morecambe Visitor Information Centre lists scheduled walks with guide Alan Sledmore. Tel: 01524 824693
The Maritime Museum has an excellent display about the cross-bay route through history.
More info on safe crossing

Happy Mount Park
Morecambe. Tel.: 01524 401140


Adventure playground, trampolines, swingboats, bowling green, miniature golf, putting, roundabout, picnic area, fabulous aqua splash park wet play area, miniature railway, Rastelli's Cafe, sports field, gardens (Japanese and traditional), kids' activities, Playland, Pirates in the Park indoor fun, and the best brass bands from the NW take turns to play on Sundays from May to September from 2.30pm. Lovely.
The habitat trail provides examples of animal's homes, how they shelter during the winter and some amazing facts about each animal.
Each habitat is explained with beautifully illustrated display boards and includes real habitats.


Morecambe Festival Market


behind The Platform, Morecambe. The indoor market is open Sunday, Tuesday, Thursday and Saturday. And on Sundays (mainly in the morning) across the carpark there is the largest open-air market in the area.
Disabled people should bear in mind that the main market carpark is council, but the open-air market carpark alongside it is private—so you have to pay or get a ticket. On the plus side the walkways between the rows of stalls are spacious.
Market Office tel: 01524 414251

Morecambe Megazone
94/96 Marine Road, Morecambe LA4 4DQ. Tel.: 01524 410224
The Ultimate Laser Adventure!

Morecambe Superbowl
Central Drive, Morecambe, LA4 4DW. Tel.: 01524 400974
Ten-pin Bowling


Stone Jetty Morecambe
(1853 AD)
Superb sculptures and bird games / riddles carved into the walkway. Fabulous scenery across the bay to the Lakeland mountains, plus (handy for the not-so-mobile?) a mini train that runs up & down the Prom from the Eric Morecambe Memorial (he said that without moving his lips!) to the cafe at the end of the jetty and back. Wot larks!

Morecambe Winter Gardens
On Morecambe Prom. This fine old theatre, venue for many stars of international repute, was left empty for years and deteriorated terribly. A local campaign group has formed to raise the money to buy the property and refurbish it to its former glory—and also give Morecambe a much-needed venue.
Come and see how the campaign to restore this historic venue is progressing and admire the remarkable architecture and decor of this fabulously ornate theatre.
Info tel: 01524 422180.




TOP

ATTRACTIONS IN THE SURROUNDING AREA

Walking, Cycling & Riding: See travel & transport

Bridge House Farm
Main St, Wray, LA2 8QP.
Tel: 015242 22496
Open Tuesday to Sunday from 10am–4pm.
Tea room with regional and traditional home-made foods, gift shop and gallery with original crafts and artwork. Also gifts, plants and accessories for the garden. Artisans workshops available. Picnic and play area to rear adjoining riverside and woodland walks and Area of Outstanding Natural Beauty (AONB). Also offers themed weekend events.

Carnforth Station Heritage Centre
Tel: 01524 735165
Visitor Centre open daily 10am–4pm Admission: Free.
Cafe open from 9am–4pm.
This local railway station has been refurbished and is proving a major tourist attraction because of its links to the classic film Brief Encounter.
Carnforth Railway Station was opened in 1846 by the Lancaster and Carlisle Railway Company as a roadside "second class" station, and was originally just a single platform. It is now thought that the original Lancaster and Carlisle station building is the building that in later years became the Carnforth station refreshment room made famous in Brief Encounter.

Cobble Hey Farm & Gardens

Off Hobbs Lane, Claughton on Brock, Garstang PR3 0QN.
Tel: 01995 602643.
Email: cobblehey@aol.com
Open from 10.30am–4.30pm Thursday–Monday (5 days a week) from February 4th until end of November. Group bookings welcome at other times.
This large, tranquil garden contains a wide range of natural environments including a cottage garden, woodland, ponds and streams, rockeries and lawns. Patio, orchard and formal parterre with box and yew hedges. Habitats of lapwings, curlews, oystercatchers and redshanks are being protected and monitored. A lapwing walk has been created in partnership with the RSPB and the Countryside Rangers. This allows you to view these spectacular birds in their natural environment, and take a look at some breathtaking views over the Forest of Bowland and much of Lancashire.
Unusual plants for sale, tearooms, gift shop, playground, working farm with rare cattle breeds.
Admission: £4.00 adults, £3.50 children/concessions. Group bookings available for all groups and schools etc.
Wheelchair access to the cafe, toilets and the majority of the garden and some access to the farm.

Cockersands Abbey Chapter House
Remains of a Premonstratensian Abbey, home to an order of contemplative canons. Est. 1192. The most visible remains are those of the 13th Century Chapter House, re-used as a mausoleum by the Dalton family of Thurnham Hall from mid-18 to mid-19 centuries. The Chapterhouse is usually closed except for the Heritage Festival in Mid-September. Outlines of the abbey buildings can be seen in the adjoining field.
Location: Thurnham. For access turn of the A588, opposite Thurnham Hall gates and down Moss Lane. Entrance to the abbey is signposted—it is the round(ish) building next to the farm. Access is across a field so appropriate footwear necessary. There are no steps.

Docker Park Farm Visitor Centre,
Indoor adventure play area, llamas, rabbit world, tearoom, shop. Bottle-feed the lambs in spring. Check out the chicks at Easter. Weekends and holidays there are tractor and pony rides. Book a one-hour tour and learn about the farming year, feed the animals, stroke lots of animals, enjoy a nature walk around Swan Lake and meet Farmer Ford on the Free tractor ride.
Free parking. 90% disabled access.
Open again daily for Half Term from Sat 14th to Sun 22nd Feb 10am – 4pm
Children £6.50
Adults £2
Family £15 (2+2)
Free Craft workshops included in entrance price!
We are then open weekends only until Easter
Find us
Tel: 015242 21331

Forest of Bowland
Area of Outstanding natural beauty

Greenlands Farm Village
On our open farm you can pat storybook farm animals, ride a horse and trap, pedal (size permitting!) a mini tractor, lark about in a straw play barn and enjoy ball sports sessions, race round the barn on the go-carts, little children can take a donkey ride and you can picnic by the paddocks.
In our artisan village, you can meet a variety of talented crafts people; from jewellers to skincare specialists, discover regional produce, savour home cooked fayre and treat yourself to hand-selected gifts, plants and wines. Enjoy delicious refreshments at Wellies Cafe.



Hest Bank Beach
Just north of Morecambe. You can get to the beach via the railway level crossing where there's a free car park. You can walk a long way along the beach path and it's lovely. The bay itself can be lethal - see our bay walk page. But you still have a lot of scope as there's lots of grass and miles of foreshore to enjoy. You might see racehorces training and in rehab on the sands, as well as kiteflyers and windsailers. Don't worry, the sands are BIG - you can have all the space your head needs. And there's a really good cafe + loos (with disabled access) called 'Archers Cafe' at Red Bank Farm. (See map)
Check the tide tables so you know what the bay is up to.

Heysham Head
Ruins from 800AD, St Peter's Church and St Patrick's Chapel. Very pretty, clifftop cemetery, Norse remains, overlooking the sea so nice walking too. Great for kites. Then you just go round a corner and BAM—two massive great nuclear reactors. And people moan about windfarms.

Heysham Heritage Centre
Check this page for opening times.

Clapham, Ingleborough Cave and Nature Trail
See also Ingleborough Cave.
Check if open; wheelchair access by arrangement.


Ingleton Waterfalls Walk
For the fit and well-shod. £5 per adult, £2 for children under 16, and £11 for a family ticket (2 adults and up to 3 children). Cafe and gift shop at start and a snack bar near top of Thornton Force.
Please note: these prices are simply for access to the path and facilities, not for a guided walk.
Tel: 015242 41930.

Jack Scout and Jenny Brown's Point
Arnside Knott, Silverdale and Arnside
Scenic walks along the coast and around Silverdale and Arnside.

Leighton Hall
nr Carnforth LA5 9ST. Tel.: 01524 734474
AD 1246. Home of Gillows—famous furniture-making family. 80 acres of garden and park, falconry displays, caterpillar maze. Tours, gifts, tea room and plant conservatory.
Open May–September inclusive, 2pm–5pm, Tuesday–Friday (also Bank Holiday Sunday & Monday). Open on Sundays in August.
Admission and ticket prices may vary. Check for accurate info.

Leighton Moss Nature Reserve
Myers Farm, Storrs Lane, Silverdale, Carnforth, Lancs, LA5 0SW.
Tel.: 01524 701601
One of the RSPB's most important reserves. The largest remaining reedbed in north-west England attracts a wonderful range of wildlife. Among its special birds are breeding bitterns, bearded tits and marsh harriers, with water rails and pochards, and its mammals include roe and red deer. You can take your pick of long or short nature trails—shorter ones are suitable for wheelchairs and pushchairs, as are most of the hides.
The reserve and visitor centre are open daily all year round (except 25 December). The reserve is open from dawn to dusk and the visitor centre from 9.30 am to 5 pm (to 4.30 pm during December and January).
Entrance is free to the visitor centre and cafe. Admission to hides and nature trails: £5 adults, £3 concessions, £1 children, £10 family. Free to RSPB members and those who come by public transport or by bike!

The Lunesdale Arts Trail
Every spring, artists in beautiful Lunesdale open their studios to visitors. Later in the year, the artists will once again be running their popular and highly-rated workshops, suitable for all ability levels.

Sizergh Castle
Sizergh, nr Kendal, LA8 8DZ.
Tel: 015395 60951
Originally built in the Middle Ages by the Strickland family, who still live there, this imposing house has an exceptional series of oak-panelled rooms culminating in the Inlaid Chamber. Portraits, fine furniture and ceramics accumulated over centuries by the family are shown alongside their recent photographs. The garden includes two lakes and a superb rock garden. All this is set in a 647-hectare (1600-acre) estate crossed by public footpaths, providing short walks from the castle to dramatic viewpoints over Morecambe Bay and the Lake District fells.
See National Trust website for current house & garden opening hours, admission charges, and map.

White Scar Caves
Ingleton, North Yorkshire, LA6 3AW. Tel.: 015242 41244
The longest show cave in the UK.
See website for opening times, admission charges, times of guided tours, etc.




TOP


MORE INFO/LINKS

Lancaster & Morecambe Official Tourist Information Website

AboutBritain
lots of useful information for tourists and visitors to Britain.
SUPPORT THIS
WEB SITE
This site is run
entirely by volunteers.
Please help with
our running costs by
making a donation.
Thank you.
ADVERTS